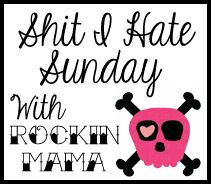 Linkadoodle on up to My 6th toe Destiny at Rockin' Mama because I said sooo!
Shit I hate...
My cell phone. Fuck you Cellular device, you shitty piece of plastic. I miss my nokia and motorola from HS, Indestructible lil bastards!
Getting no sleep, and then having a crying baby....those two things just DO NOT go together, makes me want to smash my head into the wall.
Chapped lips. OOOMMMMGGGG!!!! why is there not ONE DAMN tube of chapstick in this entire APT! >___<
My teeth, not because they are perfect and straight, but because I know my mouth is full of cavities, and the hubby hasn't signed us up for dental care, and boy that dentist who ever it shall be is gonna HATE me and my mouth.
Driving, I just simply do not enjoy packing up the diaper bag, putting Jazelle in her car seat, and putting that heavy ass bitchass carseat into my POS car...which brings me to the next...
My POS car. I regret buying you. Your just crappy, but I still am thankful to have your shitty ass!
telling myself at 11pm that I was going to bed, and now its 1am. FUCK ME!
Well....I need to end it there, because SERIOUSLY I need to take my extremely tired ass to sleep!
Hope you all are having a kick ass weekend!
I will have a REAL update with pics from my day trip to the cali coast later today after my much needed beauty sleep. Great shots of my little one! Cant wait to share!
::TEASER::
xoxox!!