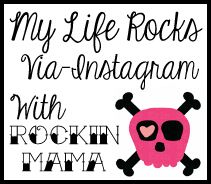 Another Week of IG fun! I swear, I don't take ENOUGH pictures, but at the same time, I take TOO many! Ay Dios Miooo!
Head on over to Rockin Mama To link up!!
1. My Beautiful Daughter...Who clearly is unaware her binkie is upside-down - NOT A SINGLE FUCK WAS GIVEN! LOL
2. Shits n Giggles
3. A repost, but I effing love it. Playin in the sand, and definitely not feeling it!
4. Bed time Snuggles <3
5. 2 month olds, falling asleep in her tub.
6. Pumpkin doesn't like my glasses, just RUDE!
7. Seriously...This is how she sleeps. I get the space between the zebra pillow and her. I'm not little!
8. The best shit EVER! It's Dangerously GREAT!
YAY! for the freaking weekend, I'll drink to that!!
Hope all you lovely hookers have a WONDERFUL weekend, and had a great week!
xoxox!!