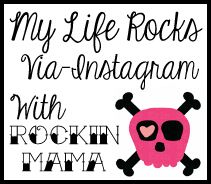 Been looking forward to this link up all week!
Linkin up to my hooker over @
Rockin' Mama
for some Instagram FUN!
1 & 2 apparently she loves herself - mirror kisses
3 Pretty in pink and zebra
4 Holding her own bottle that she found with left overs in it - Big girl
5 ruuning the 5k color me rad race in sept way excited
6 & 7 I failed astronomically! LOL and just noticed this NOW, and am FAR to lazy to go fix it! SO...This is called, SHARING IS CARING! lol. She couldn't wait.
8 Matching headbands and a unhappy baby
9 Rocking the lime reen and cheetah bow! <3
Loving my uploads to IG this week! My princess is so damn cute!
xoxox!!