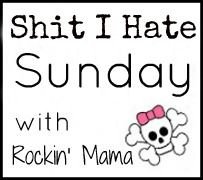 Check out this fancy hawt link up that I love oh so much!
Rockin' Mama
Shit I hate---Fresno. PERIOD! This bitch is hott as fuck. high 111 yesterday! Go kill yourself fresno. You hott as valley
Shit I hate -- Gas prices. The fuck are you rising for. Do we look like were rich bitches? ummm NO! Thanks go back down damn it!
Shit I hate -- biting my lip, then biting the same spot again...and again...FUCK!
Shit I hate -- Money, you can never seem to have just the right amount....
Shit I hate -- Losing touch with friends. I love you people.... :P
Short but hey, Its monday now, and kiss my ass! lol
xoxox!!