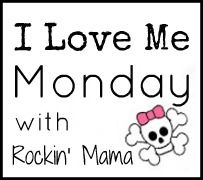 Linkin up with my kickass bitch
Rockin' Mama
for another sweet I Love Me Monday
Tits McGee <3
1. Describe yourself in one word.
Driven - Because clearly...I go hard in the mutha fukkin paint! lol
2. What word would your friends use to describe you as, and why?
Goofy -- because im fucking silly thats why. half the shit I say makes 0 sense.
3. If your life was a flavor, would you describe it as sweet, salty, or sour?
Salty -- cuz shit happens bitch!