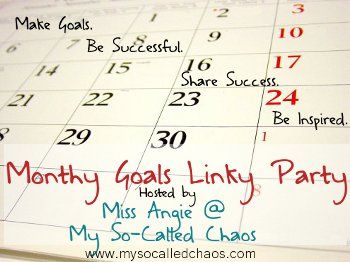 Found this link up through none other then Destiny @ Rockin' Mama
And I for one am a huge fan of goal setting!
Gives me something to work on and look forward to, and when I accomplish my goals...
I am one proud bitch!
And I need a little proudness in my life.
My November Goals
Walk 2 miles 5 days a week (rain or shine)
Drink more water
Eat at least 3 meals a day, healthy ones.
Cut back on unhealthy snacking
Make one new friend in Colorado
Spend more quality time with my daughter, and less time on Facebook/Twitter/IG
Quit smoking. Lord please please help me with this one.
Your turn. Head on on over to My So-Called Chaos, and link up!
xoxox!!