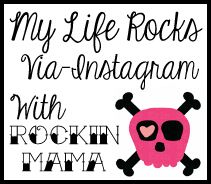 Bueno all my gorgeous bloggie babess!!!
Hope you all had a fabulous week!
BUT YAY FOR THE FREAKIN WEEKEND,
ILL DRINK TO THAT! WHOOO!
Linking up this fine day with the gorgeous miss Destiny, for My life rocks Via IG!
Check it out! (:
1. Painted fingers and toes. And no that finger nail polish didn't even last a day! think Ill refrain from finger painting for awhile!
2. Baby girl is growin way too fast! Waaaaaahhh STOP IT!
3. Lil mama fel and busted her lip and nose. HEART BROKEN!
4. I attempted to get a tooth shot, cause yes, she has a tooth...I failed.
5. BABY J's LOL. It was midnight. Test run.
6. Whatever sleeping position works for her.
7. Watching Jake and the never land pirates...Her legs were also flailing around. LOL
8, Another try for a tooth shot....STILL FAILED! SMH!
9. FUNNY of my week! CAKE!
Hubby arrives back to base today after a 12 day FTX. I cant wait to hear from him. I've missed him like crazy. He's home in exactly one week! Holy crap I remember when my countdown was in the 70's! WAOO! Now its 7! (: EXCITED!
xoxox!!